Pilates for a Healthier, Happier You – Unlock Your Potential
Tuckahoe, NY
Elevate your well-being and unleash your full potential with Pilates. Start your journey today!
Starting Pilates today is a fantastic idea because it's like giving yourself a gift of better health and well-being.
You'll feel the difference in your body as you build core strength, become more flexible, and stand taller with improved posture.
Plus, Pilates has this amazing way of reducing stress and helping you stay mentally sharp. The best part is, it's for everyone – whether you're just starting out or looking to challenge yourself more. And if you ever had any concerns about injuries, Pilates is gentle on your body and can even help with recovery.
Trust me, starting Pilates now is like giving your future self a big high-five for making such a smart choice!
Discover Personalized Guidance, Faster Progress, and Tailored Workouts for Your Best You
Elevate Your Fitness Journey with Private Pilates Classes
Starting private Pilates classes is a great choice for you because they offer personalized attention and workouts designed just for you. This means you can progress faster and reduce the risk of getting hurt. You'll also get to understand Pilates better, making your sessions more effective.
Private classes are also flexible, so you can pick a schedule that works for you. Plus, they're a comfortable way to start. You won't feel self-conscious like you might in a big group. This helps you gain confidence and enjoy your workouts more.
In a nutshell, private Pilates classes are a smart option. You'll get special attention, progress faster, and stay safe from injuries. It's a flexible and comfy way to achieve your fitness goals.
Join Today
Heidy Tejeda is a dedicated professional who embodies holistic wellness and personal growth.
Who will teach you:
Her multifaceted expertise encompasses life coaching, Pilates instruction, and yoga practice, all aimed at nurturing the physical, mental, and emotional well-being of those she works with.
Heidy doesn't just offer services; she provides a comprehensive resource for individuals seeking self-improvement and personal development. Whether you're navigating life's challenges, striving to enhance your physical fitness, or yearning for inner peace and mindfulness, Heidy has the knowledge and tools to guide your journey.
What sets Heidy apart is her impressive certification and qualifications as a coach and teacher. Her credentials make her a trusted partner on your path to self-discovery and growth.
At its core, Heidy Tejeda's approach is all about helping individuals achieve harmony, resilience, and mindfulness in their lives. It's not just a profession; it's a passionate commitment to holistic well-being that addresses every facet of a person's existence.
"As a holistic wellness expert, I blend coaching, Pilates, and yoga to foster well-being."
Heidy Tejeda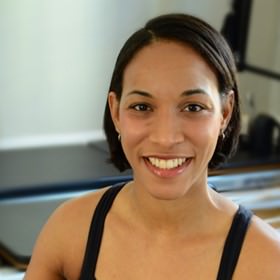 I have being going to Pilates Unleashed for over three years and I adore it! I attend pilates classes, yoga classes and do personal training and I always leave feeling better than when I arrived. Heidy works the body and calms the spirit. I recently had hip replacement surgery and Heidy has helped transform my body so that it is stronger and has better balance than ever before.
"Heidy is a truly talented instructor. She finds your weaknesses and then works on them in a very kind and relentless way until you are stronger. She exudes warmth and is one of the most wonderful people I have ever met."
I started at Pilates Unleashed a few years ago primarily due to recurring back pain and discomfort, the result of an injury which occurred in my teens. The weekly Pilates reformer class I attend has helped strengthen my back and has increased my flexibility while helping to manage the pain. All the instructors are very competent. I would recommend Pilates Unleashed to anyone who is looking for a smaller class size and more personal attention.
Pilates Unleashed and it's owner Heidy were recommended to me as "life changing." Indeed, she has made measurable and meaningful differences in my strength, posture and movement that have kept pain at bay and allowed me to resume an active lifestyle . I have a back injury and Heidy's own experience with injury and recovery have informed her practices and advice. She gets it. Heidy asked me my goals when I started and has never wavered in helping me achieve them. If I show up with back pain, she helps me relieve it and sends me home with a plan. As I've progressed, so has Heidy's plan for me. Heidy has not only helped me with core strength. She has helped me make subtle changes in my posture, helped me recognize what activities to avoid to keep pain at bay and has given me benchmarks to know I'm ready to move forward. Heidy is encouraging, enthusiastic, realistic and focused. She has a knowledge of the body, muscle and functional movement that rivals the best PTs I know. All that and she is down to earth, warm, approachable and a pleasure to spend time with. Pilates Unleashed and Heidy are the real deal.